Tackling the Healthcare Crisis: Stabilize to Scale
Dr. Alika Lafontaine, past president of the CMA, on the current state of healthcare and his faith in the people who can make change. 
In clinical practice, Dr. Alika Lafontaine is an anesthesiologist; he's used to putting people to sleep. But, as he transitions from president to his new role as past-president of the Canadian Medical Association (CMA), he's continuing to sound the alarm about burnout, particularly burnout in the medical community.
The COVID-19 pandemic has dramatically impacted the mental health of many Canadians and frontline healthcare workers were particularly hard hit. In November 2021, 18 months into the pandemic, fully 53% of all physicians reported they were burned out, up from 30% in 2017. 
Dr. Lafontaine worries about the impact on our healthcare system if healthcare professionals don't get the support they need. Taking care of the physical and mental health of the medical community must be a key area of focus if we really want to tackle the health human resource crisis. 
"I'm reminding political leaders, those in government, if we don't do something soon, people will transition from simply being hopeless to being indifferent," he says. And indifference will seriously erode our healthcare system's ability to deliver compassionate patient care.
What's exacerbating provider burnout is the collapse of the healthcare system, says Lafontaine. "Primary care began to collapse in the midst of the last couple of years, particularly with the pressures of the pandemic," he says. Since then, other parts of the system have begun breaking down. "We've reached our limit," he adds. 
Lafontaine says that the medical community has been aware of the Canadian mental health crisis for some time. He said, "I think one of the challenges that mental health has always had is that it was pushed out of view. We always knew there was a crisis in mental health. We always knew there was insufficient access to people who could provide the care that patients were looking for, but we pushed it out of view. It was replaced by things like surgical wait lists, emergency wait times, lack of access to a family doctor, etcetera etcetera. And it's now coming back into full view. So it's not a crisis that's new, it's just a crisis that was out of view that we're finally seeing again."
Regarding potential next steps, Lafontaine shared, "To move forward, we need to stabilize the system. And, we need to grow and scale the system. We're not in a "scale and grow" situation [yet]; we have to stabilize. And that's a very different approach to how we're approaching capacity and support than we're taking right now." 
Tackling a healthcare crisis
Lafontaine proposes several approaches to addressing the current crisis in mental healthcare:
1. Provide easier access to mental health support
People often encounter barriers when they go to the ER. "Folks within the emergency room don't feel comfortable providing mental health support," says Lafontaine. 
As a result, patients are forced to look elsewhere for help and struggle to navigate the system. Lafontaine says that the healthcare system needs to make it much easier for patients, so they can navigate freely and find the help they need.
2. Move on collaborative care and data sharing
Administrative and clerical tasks have been increasingly downloaded onto clinicians, impacting their time that's available for patient care. The CMA's current focus is on fostering a team-based approach, says Lafontaine, to address these gaps. "A lot of the focus on team-based care right now is on how to switch out the person who costs the most with someone who costs less," he says. "So, a lot of times it's switching out the psychiatrist with someone who's a non-physician or the family physician." 
"And the sharing of patient data – whether that's imaging, patient history or blood work—also needs to be improved to reduce redundancy and improve the efficiency of care."
There needs to be a clean-up of the overlap that occurs in the treatment of patients, says Lafontaine, adding that three in ten patients see different doctors for the same problem. "That's an enormous amount of capacity that we could open up," he says.
3. Allow physicians' concerns to be heard
Lafontaine says that all too often medical professionals are urged to stay silent and soldier on, even when they recognize that significant challenges exist for patients, which must be addressed in order to deliver appropriate care.
Instead of hiding this information, Lafontaine says that these issues need to be made public and toxic work environments must be identified and addressed if burnout rates are to go down. 
Given the state of the medical system, action needs to be taken quickly before more health professionals leave due to burnout, says Lafontaine. "People do not walk away from a career in medicine, when they've spent this much time and training, unless they've found that they just can't tolerate things anymore," he says. "And that's the situation I think we're in, in many places in Canada."
Despite a clear-eyed view of the reality of Canada's current healthcare challenges, Dr. Lafontaine is optimistic that things will change, as health professionals continue to offer quality care and support to patients, despite the obstacles they face. "I do have a lot of faith that as long as people continue to care, we'll figure this out," he says.
Listen to the full episode>>
This blog post is part of a series looking at the state of our mental healthcare system and ways we can create sustainable change to improve quality and outcomes for anyone impacted by mental illness.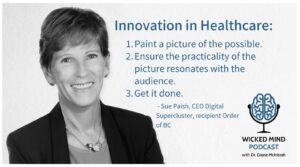 Sue Paish, CEO changemaker in several health-related companies. Separate mental health and substance abuse. Improve access to coaching during pain management (vs. opioid-first-always). Change collective mindset among leaders. How to get things done.
Some experiences are so profound they leave a lasting mark, shaping who we are and who we become. Our workplaces are the beneficiary of Stéphane's experience in Rwanda and what happened after. His ideas on transforming workplace mental healthcare. Which of the 3 buckets of workplace mental health programs does your organization belong in?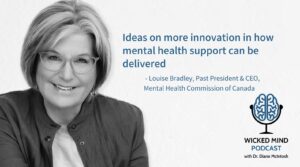 Reflections on the power of being a leader and sharing one's mental health story from past president and CEO of the Mental Health Commission of Canada.